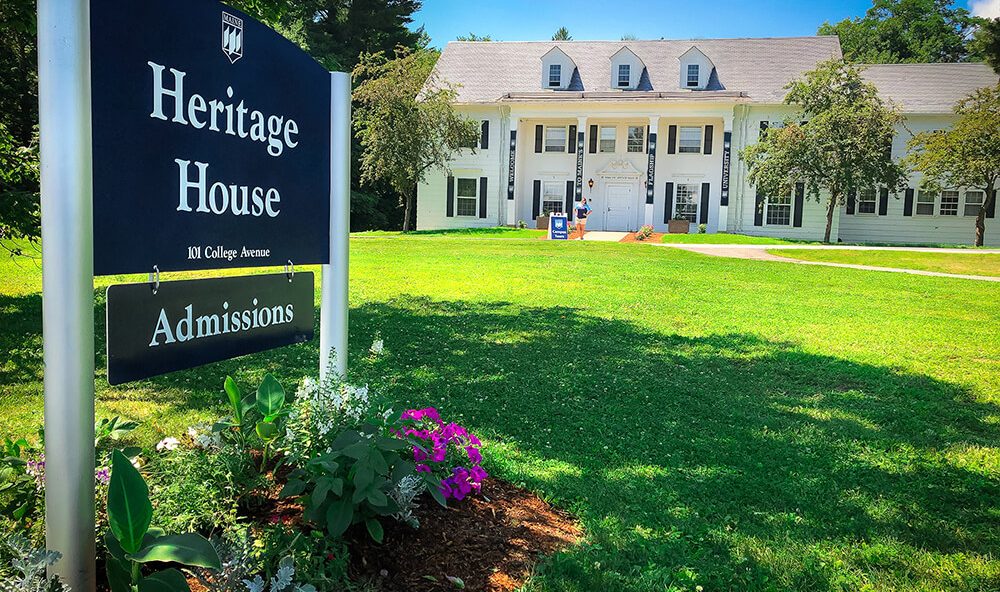 ---
Please register online or call 207.581.1561 to attend a campus tour. Please note that tours may not be available due to holidays or university student breaks.
Please note: If you have issues registering please contact us at 207.581.1524 or um.campustours@maine.edu if you have any questions.

---
Heritage House
101 College Avenue
Orono, ME 04473
From Bangor International Airport
Orono is approximately twenty (20) minutes north. Once leaving the airport, turn right onto Union Street. Travel approximately 1.8 miles to I-95. Take I-95 North.
From the South
Take exit 193 to Stillwater Avenue and turn left. Drive straight for one mile and turn right onto College Avenue. Drive about 1.5 miles. The Heritage House will be on your right.
From the North
Take exit 191 to Kelly Road and turn right. Continue on Kelly Road for 1 mile until you reach the traffic light, then turn left onto Route 2 and go through downtown Orono. Cross the river and at the next set of traffic lights, turn left onto College Avenue. Drive about .5 miles on College Avenue. The Heritage House will be on your left hand side.
Parking
Visitors should park at the Heritage House. There is parking in the front and the back of the building.
Feel free to contact us at 207.581.1524 or um.campustours@maine.edu if you have any questions.
---
Frequently Asked Questions
What time should I arrive on campus?
Plan on arriving 15 minutes before the start of your campus tour to allow time for parking and check-in.
What should I wear?
Be sure to wear comfortable shoes and appropriate weather gear. Please let us know when you register if you will need special accommodations as the program includes walking tours around campus. Bringing an umbrella and appropriate rain/cold attire is highly recommended.
What if campus closes due to inclement weather?
If inclement weather is expected, please check UMaine's Homepage for campus closure notification. You may also call 207.581.7669 for the most up to date campus updates.
Is there a full map of campus available?
Click here for UMaine's building directory, service locator or to print a map of the campus.
Who should I contact about meeting with a coach?
Student athletes interested in meeting with a coach should contact the Athletic Department directly. Visit the Athletics Staff Directory for contact information.
Need additional assistance?
For further assistance, please feel free to contact us at 207.581.1524 or um.campustours@maine.edu.
---
Team Maine, our student ambassador program, is an integral part of the Office of Recruitment and Admissions at the University of Maine. Its mission is to assist new students in their transition to higher education and the University of Maine community. Team Maine works closely with incoming students and their families through programs that connect them to valuable academic and student services. Team Maine will always be here to welcome you to campus!
Team Maine members would love to talk to you about their experience at UMaine, and any other questions you have about the University. Please get in touch using this form and a Team Maine member will get back to you. 
Talk to a Student Ambassador
---
Team Maine A-H
Betelhem Abay

Megan Arsenault

Mikayla Billiter

Jeremy Binding

Maylinda Boynton

Andrea Bresnahan

Saskia Bollen

Nathan Bouchard

Justin Brown

Leeanna Cmar

Derek Deoul

Meghan Frisard

Noelle Hanna

Grant Herchenroether

Emma Hodge

Rachel Hyatt